WakeOnLAN is WOL / Shutdown software for Windows. A powerful WOL, ping, shutdown, GUI application. Do you need a robust, reliable solution for remote computer control and access? WakeOnLAN might be the program you want to use if you're looking for something that is both powerful functionally and easy to use.
The current version is 2.12.4
Donate
Help support WOL by donating
Online Documentation
Complete documentation for WOL
Wake-Up
Send wake up packets to computers that support Magic-Packet WOL.
Shutdown
Shutdown Windows domain computers. Also, with more complexity, shutdown Windows non-domain computers, and Linux computers via script.
Listener
Monitor and display incoming WOL packets. Useful for troubleshooting network routing issues.
Scanner
The Network Scanner makes it easy to survey networks and add hosts to the database.
---
Wake Up remote machines
Wake up almost any computer that supports the "magic packet" protocol.
Shutdown remote machines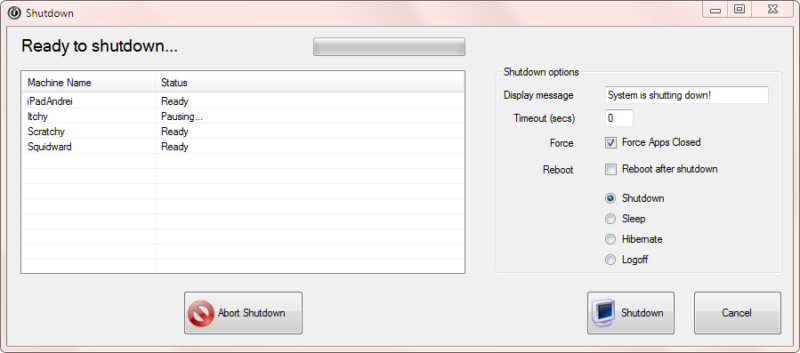 Shutdown is designed for Windows domain computers, but it is possible to shutdown non-domain computers, and even Linux server, with some extra work.
Key Features
Performs the following tasks
WakeUp a remote computer that is powered off
Shutdown a remote computer
Ping the selected remote computer, to display it's status
Perform an emergency shutdown of ALL defined computers at once
Connect to the remote server via Remote Desktop
Listen for WOL packets (to aid in troubleshooting)
Schedule wake ups, shutdowns
Command line and GUI interfaces
Useability
Useful features
Network interface for WOL packets is configurable
Shutdown Linux machines using script
Minimize to task tray
Ability to auto-start with Windows
Search tool attempts to determine if WOL is enabled on scanned Windows computers
Avoids power spikes by staggering wake-up events
Send email notifications using the built-in scheduling system
Can be used in static or DHCP addressing networks
System-tray notifications and balloon tips
Sound notifications when hosts change state
Automatic check for latest version
Supports Wake-Up over the Internet using WOLAgent
Troubleshooting
Built in tools for troubleshooting
Troubleshooting tool displays incoming WOL packets
Supports complex network environments with subnet directed broadcasts
Includes tools to scan network for hosts, ip and MAC addresses
Event Log shows a history of wake-ups, shutdowns, and exceptions
Translations
Translated into these languages
English (USA)
Brasil (Português) – Brazil
Español (España) – Spain
France (Français) – France
Deutschland (Deutsch) – Germany
Italiano (Italia) – Italy
Nederland (Nederlands) – Netherlands
Россия (Pусский) – Russia
Suomi (Suomi) – Finland
Magyarország (Magyar) – Hungarian
România (Română) – Romania
中国(台湾)- Taiwan Chinese

العربية (الأردن)

– Arabic (Jordan)
Recommendations and awards
About Us
AquilaWOL is open source. You can view the source online at Github. The installer is digitally signed.